From Green Right Now Reports
Do-it-yourself kit-home manufacturer, Shelter-Kit, Inc., has launched a Green Home Kit that will allow customers the ability to be a part of a certified home project from the National Association of Home Builders' (NAHB) National Green Building Certification Program (NGBP). The Tilton, NH, based kit-home company creates homes, barns and garages that anyone can build their own home.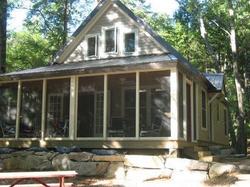 Shelter-Kit, Inc. green home kit
The NAHB launched the NGBP with the goal of helping its members move the practice of green building into the mainstream.
Shelter-Kit retained TimberLogic LLC, a Certified Green Professional company, to conduct the Green Building assessment of their Green Home Kit. Points are awarded in a variety of categories, which in conjunction with other on-site components, determine whether a home can be certified by the NGBP.
As with all Shelter-Kit products, customers can customize their Green Home Kit for their particular needs and wants — the more green points options they select in their Green Home Kit, the more points are accrued toward NGBP certification (beyond the Green Home Kit, homeowners can gain points for certification from other parts of their overall project, including site work, energy efficiency, operation, etc).
Shelter-Kit's Green Home Kit incorporates eco-friendly features and options, including resource, water and energy efficiency, and indoor air quality.
"We've always prided ourselves on the eco-benefits that our manufactured homes and structures have over stick-built. Now, with this Green Home Kit, we really have taken it to the next level, allowing our customers the options to build a truly green home," Dave Kimball, owner of Shelter-Kit,  said in a statement. It feels really good to not only be able to give something more to our customers, but to also give back to the planet… it's important to us, and it's important to our customers."
To learn more about the National Association of Home Builders and its National Green Building Certification Program, go to www.nahbgreen.org.
MORE FROM GRN